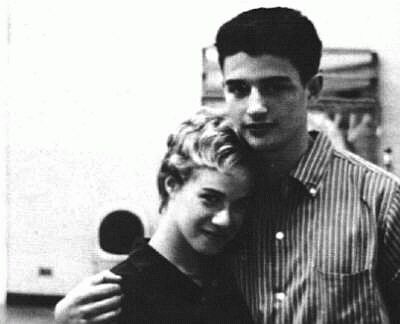 Here's a conversation I keep having:
Me: So I'm reading Carole King's memoir (A Natural Woman: A Memoir) and LOVING IT.
Friend: Oh weird. She's okay.
Me: I'm not even a big Carole King fan, but REALLY, you should really read it! Also I'm only half way done, but I'm pretty sure Carole King and Gerry Goffin wrote every song ever.
Friend: Hmm.
Me: You're not going to read it are you.
Friend:….nah. How's Australia?
My music book club dreams have been thwarted (it's okay, I got everyone to read Just Kids a few months ago. Wait, you haven't read Just Kids? Oh come on guys.*) But my Goffin/King obsession continues. Here are my top 5 (of so many! So many songs! Go read the Wikipedia page of just the hits. It's ridiculous) surprising Goffin/King songs, complete with wacky musical trivia and early 60's songwriting stories.
"Locomotion," by Little Eva
Eva Boyd was a babysitter for Carole King and Gerry Goffin's daughters, Louise and Sherry. Urban legend has it that they heard her singing around the house decided to turn her into a star, but urban legend is wrong: Boyd was already singing backup on Goffin/King songs when she started working for them, and they were well aware of her musical gifts. Goffin gave her the stage name "Little Eva." Apparently she came up with the signature Locomotion dance on the spot when she was on tour promoting the song.
"He Hit Me (It Felt Like a Kiss)," by The Crystals
Disturbing fact that's not in the book: Creepy ode to domestic violence "He Hit Me (It Felt Like a Kiss)" is a Goffin/King song that they wrote after learning that Eva was being beaten by her boyfriend. When they asked her why she stayed with him, she said it was because his abuse was motivated by love, a response that inspired the song made popular by The Crystals.
"(You Make Me Feel Like A) Natural Woman," Aretha Franklin
Here was the assignment: Write a hit for Aretha Franklin (who at this point was already on her way to becoming a musical legend). Call it "Natural Woman." Goffin and King got this assignment as they left work one day. They started to work their brainstorming magic in the car on the ride home, and by the end of the night they wrote and composed what would go on to be a classic.
Goffin wrote the lyrics to this, and to their first smash songwriting hit "Will You Still Love Me Tomorrow?" Both songs seem to have such a clear, female voice; even King notes that everyone always assumes she wrote the lyrics to "Will You Still Love Me Tomorrow?," because how could a man layout the emotional concerns of a teen girl who's about to lose her virginity? It's a mark of masterful writing.
"One Fine Day," by The Chiffons
If I were very strict honesty-wise and allowed repetition in my So Hot Right Now lists, this song would probably be on the last six. Goffin/King songs actually were a part of all sorts of 60s girl group magic. They wrote  "Chains" and "Don't Say Nothin' Bad (About My Baby) for  The Cookies, who would go on to become the Raelettes, Ray Charles' back-up band. "He Hit Me (And It Felt Like a Kiss)" was a hit for The Crystals, and The Shirelles' version of "Will You Still Love Me Tomorrow?" was the first hit by a girl group to reach #1 on the charts in the United States.
"I'm Into Something Good," by Herman's Hermits
Goffin/King originally wrote this song for Earl-Jean "Jeanie" McCrea from The Cookies, but it ended up being a huge hit for Herman's Hermits instead.
So in King's memoir, she doesn't mention this story, but it comes up in Girls Like Us: Gerry Goffin had a love child with Jeanie McCrea, and Goffin/King continued to write songs for her and work with her quite a bit professionally. Is this a real story? I can't find it anywhere else—King doesn't talk about it, Goffin doesn't talk about it, it's not attached to any online information about them or McCrea. Do you know anything about this? Leave a comment if you do.
*Patti Smith is writing a sequel to Just Kids!
** If you want to join my one-woman musical book club, I'm taking some inspiration from Noura Hemady's Top 5 Songs About Rock and Roll and reading Love Goes to the Buildings On Fire: Five Years in New York That Changed Music Forever next. Leave your music-book-club suggestions in the comments!